Art From Greece
My Paintings From Greece
Greece (and the Greek Islands) is a country with a particularly rich and ancient history.
Excavations show that the first settlement is dating from the Palaeolithic era (11.000-3000 BC). During the second millennium BC, Greece gave birth to the great civilisations of the Minoan (2600-1500 BC), the Mycenaean (1500-1150 BC) and the Cycladic civilisation on the greek islands of the Centre Aegean.

Greece is a peninsula.A peninsula is a part of land that has water on three sides. The Aegean, Mediterranean, Ionian Seas surround Greece. Many islands are part of Greece.
Try to imagine this: There are more than 2,400 islands around Greece!
Click on the images to see more details.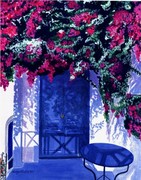 The Famous Island of Santorini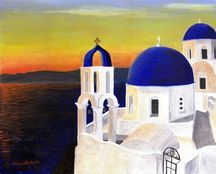 It has been said that the sunsets in Santorini are the best in the world. From the Caldera breathtaking views of the volcano & neighbouring islands. Everywhere one sees small domed churches and remnants of days gone by.
This painting was created from one of the 200 pictures I took on my trip to this beautiful Island..
Rodos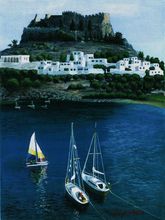 Throughout its long history the different people who settled on Rhodes left their mark in all aspects of the island's culture: art, language, architecture. I love this Island...the Island of Afrodite...


Myconos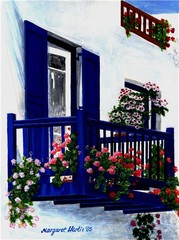 A beautiful island in the Cyclades, which looks just like the postcards: white little houses with flowers and blue windows and doors, hand painted streets, windmills, pigeon keepers, chimneys, lots of little churches and wonderful restaurants and cafes.


Corfu /Kerkira/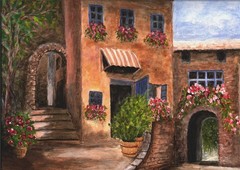 Corfu/Kerkira in Greek / is a Greek island in the Ionian sea.The island is steeped in history and perennially connected to the history of Greece from the beginning of Greek mythology.
Patmos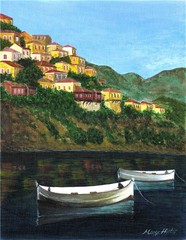 Patmos is not a big island, but it is one of the best known. It was here St. John had his vision and wrote the apocalypse, and this is why Patmos is sometimes called "The Jerusalem of the Aegean". The Monastery of St. Johns towers above the capital, Chora, and the whole island breathes of faith and devotion.

The Island of Kerkira /Corfu/